The Internet – The Information Super Highway – The World Wide Web 
There was a time before any television commercials were talking about the internet. Social media had not been created and online shopping was non-existent. At best the Home Shopping network provided a resource for individuals that could not get out or didn't want to go out and shop. You would need to go back to 1995 to remember this era. But who wants to go backwards?
Fast forward 23 years, 2018. If you have not heard about the internet it would not be due to lack of exposure. Television, Radio, Newspapers, Billboards and just about every media platform has communication about the internet and a web presence. The Information Super Highway has created a virtual road map globally that's instantly brings you content in a click. Can you believe in two years the (WWW) World Wide Web will be a quarter of a century? What strikes me the most is the continued growth of the machine called the Internet.
According to a report in 2016, 79 percent of people now shop online. A report for 2015 states roughly 8 in 10 American are online shoppers. How would you expect the trend to flow in 2017 and 2018? Looking at $ spent I found these statics to be very interesting not just in America but globally.

Infographic by- Invesp Consulting

With all this data supporting the online industry, How much have you invested in your online presence?
The question is not about your need to have an online presence. It is more about why don't you have one? There are literally millions of designers and developers, web companies and even do it yourself services that can get you going.
At RAHA1 WEB DESIGNS we have an established presence online and have been here since the beginning. We provide counsel, updates and full design services that will help you tap into the global economy.
Starting your web presence is as simple as filling out this form and contacting us. Our team will follow up and communicate all the necessary steps to setup your site. We even manage and provide update services upon request.
One facet clients appreciate about our service is the fact we have
NO MONTHLY FEES! We provide the service when you need it and follow up monthly to make sure everything is connected and working for you.
Fill out our contact form to discover the ease of getting online
DIY — READY TO GO ALL IN — BY YOURSELF? NO WORRIES
So you're feeling lucky? For the Beginners
If you want to get started on your own, these are two suggestions. Godaddy has a nice feature called Website Builder that can step you right through the process of getting online. They also have a great 24/7 support staff to help you get un-stuck, and you will. We also help figure you out the details. Just contact us online.
Click here to learn more and get started.

The second and our personal favorite is WordPress. This package will take more hands on application. You can search YouTube and even tap into the search engines and find excellent resources to help produce the site of your dreams. This one will definitely take more work but the payoff will be worth the effort. Click here to get started

RUN YOUR BUSINESS ….. WE UNDERSTAND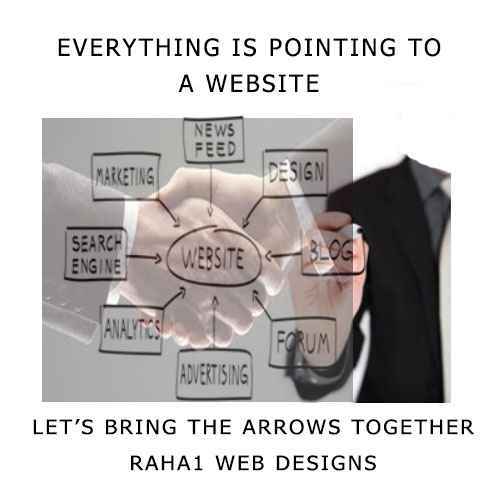 Most of our clients just want to run their business and not spend anytime learning a new trade, web design. Updates, maintenance, eCommerce, redesign, follow up, broken links, new photos, search engines, social media……….
That's what we do at RAHA1 WEB DESIGNS 
Our web services branch out to cover many designs and concepts. With over 20 years in development, our service and network has expanded into a global resource database. We provide web counsel and design for established and business start-ups.
Contact us today for design, updates or counsel.